S50 is a compact and full-featured IP-PBX that comes in a 19'' 1U rack-mountable chassis. The advanced module-based S50 is capable of supporting ISDN BRI, PSTN, and GSM connectivity, providing VoIP communications for up to 50 users.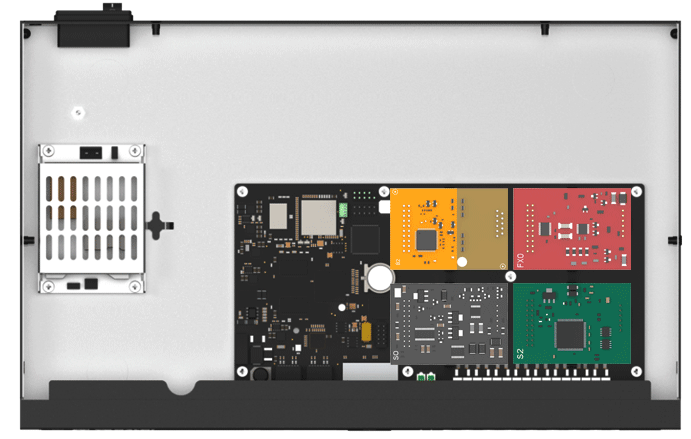 With Yeastar S-Series, all the telephony interfaces are modular and customizable, S50 support 4 onboard module slots to custom FXS, FXO, ISDN BRI, GSM/3G/4G.
50 Users
25 Concurrent Calls
Up to 8 FXS/FXO/BRI Ports
Up to 4 GSM/3G/4G Channel
Security
Protected from Internet hackers,
viruses with built-in firewall, TLS,
SRTP, and more.
Performance
Powered by Freescale ARM A9
industrial grade quad-core CPU
processors.
Future-proof
Free lifetime software/firmware upgrade assure reliability over the years.
Easy to use
Save time with streamlined
installation. Manage PBX on the intuitive web GUI.
Phone provisioning
Automatically provision phones
from Cisco, Yealink, Panasonic and more.
Linkus Mobile Client Stay Connected anywhere anytime
Coordinated with S-Series VoIP PBX, Linkus Mobile Client makes
your Android or iOS mobile phone an office extension.
Robust Feature Set for All of Your Calling Needs
The Yeastar S-Series is designed to help you grow your business by providing plenty business-enhancing
system features and functions. Learn more about the business-enhancing features.
App Center.
AutoCLIP
Auto Provision IP Phones
Automated Attendant (IVR)
Blacklist/Whitelist
Billing App
Call Back
Call Detail Records (CDR)
Call Monitor
Call Recording
Call Routing
Call Transfer
Conference
Distinctive Ringtone
Emergency Number
Event Center
Email to SMS/SMS to Email
Fax to Email
Find Me/Follow Me
Hot Standby
Import/Export Extensions
LDAP Server APP
Mobility Extension
Music on Hold
Queue
Ring Goup
SIP Forking
SLA
Speed Dial
Time Condition
User Portal
User Privileges
Video Calls
Voicemail
Voicemail to Email
VPN Server App
Learn more about features
At Yeastar, we strongly believe that small and mid-sized business communication needs to be simpler, more reliable, and more cost-effective. Our VoIP PBX & Gateway solution empowers you and your business to improve efficiency and reduce communication cost with new levels of quality and experience.